By gathering your content in one central, digital place, Aztrix* helps you share yourself or your brand in the most accurate way possible. For it to feel truly authentic, it only makes sense for everything to be fully customisable. Adjust the colours to match your brand guide, play around with different languages, or collect the right data to get the most out of your link.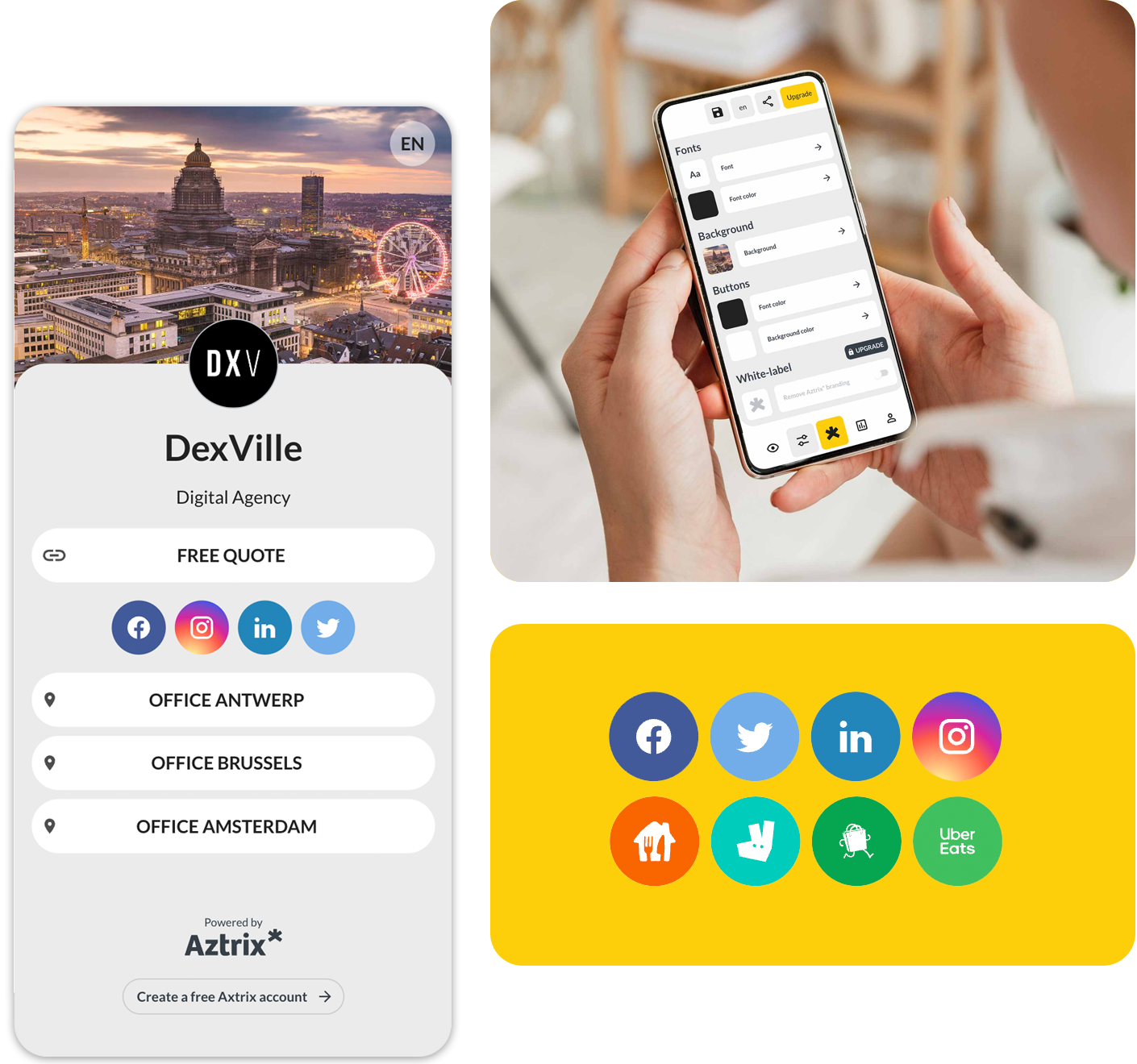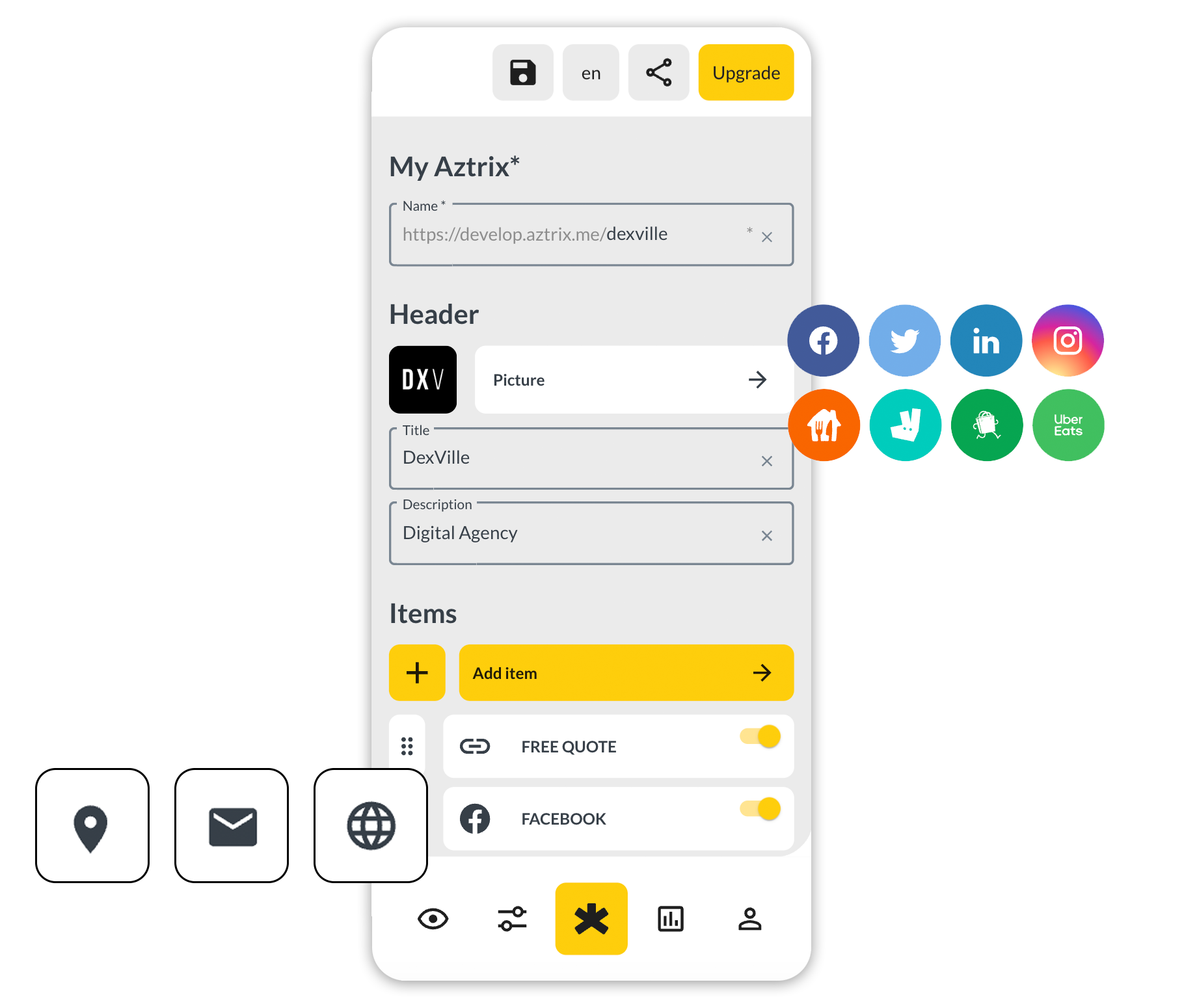 You decide what you share on your Aztrix* profile. Do you want to direct potential clients to your website, LinkedIn page, or portfolio? Or do you simply want to share your killer mixtape, holiday pics, or Tik Tok profile? Add the right info and puzzle together your online business card. 
Decide which personal, professional, or contact details you want to share

Easily connect your social media profiles 

Create simple forms to collect information

Upload your own files or photos
You can fully personalise the design of your Aztrix* page. After all, leaving a good impression isn't just about what you share, but also about how it looks. We don't make the rules.

Choose from a selection of fonts.

Personalise the colours of your background, text, and buttons.

Prefer a logo or photo as a background? Upload your own image. 

Want even more design freedom? Get the white-label platform.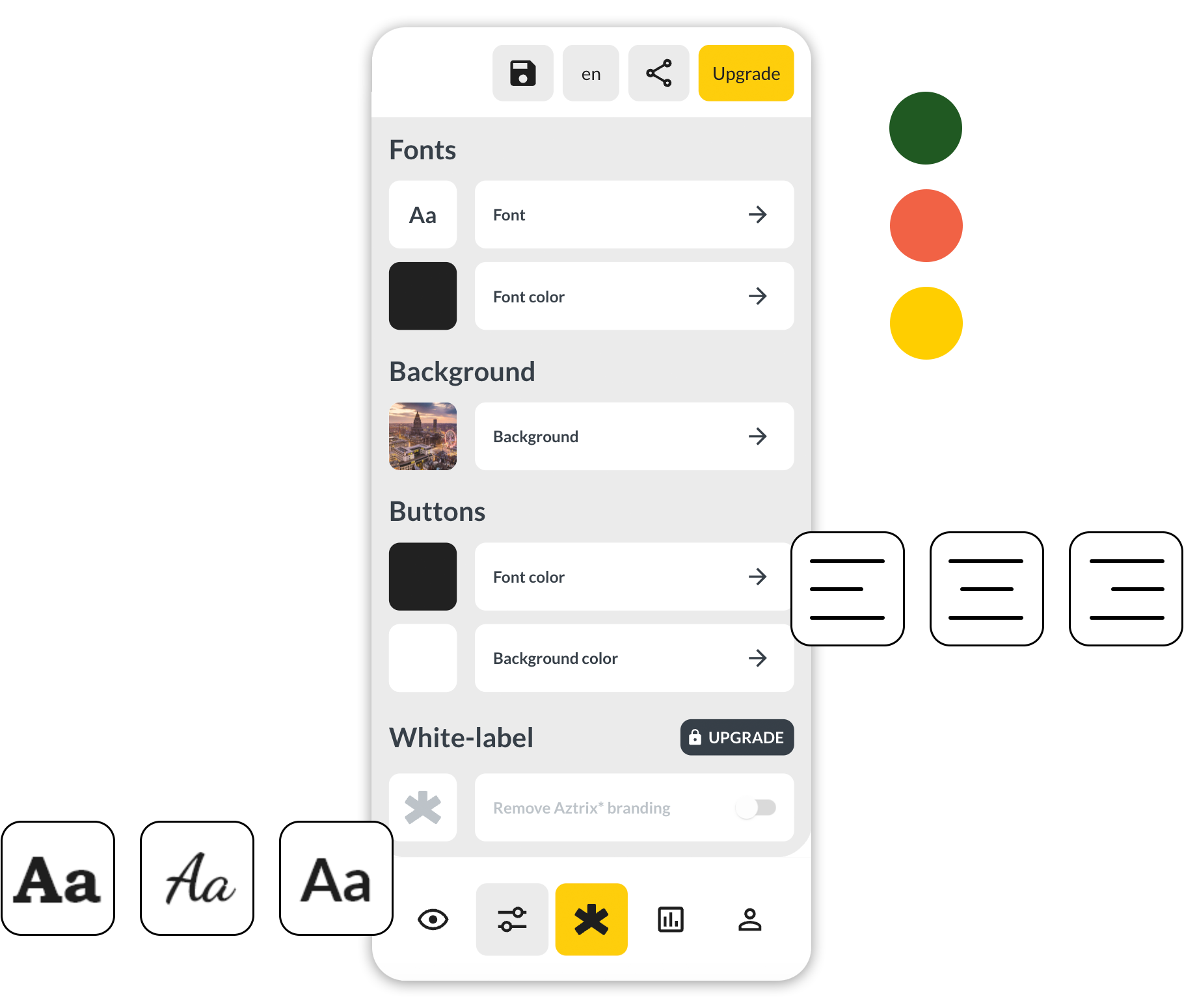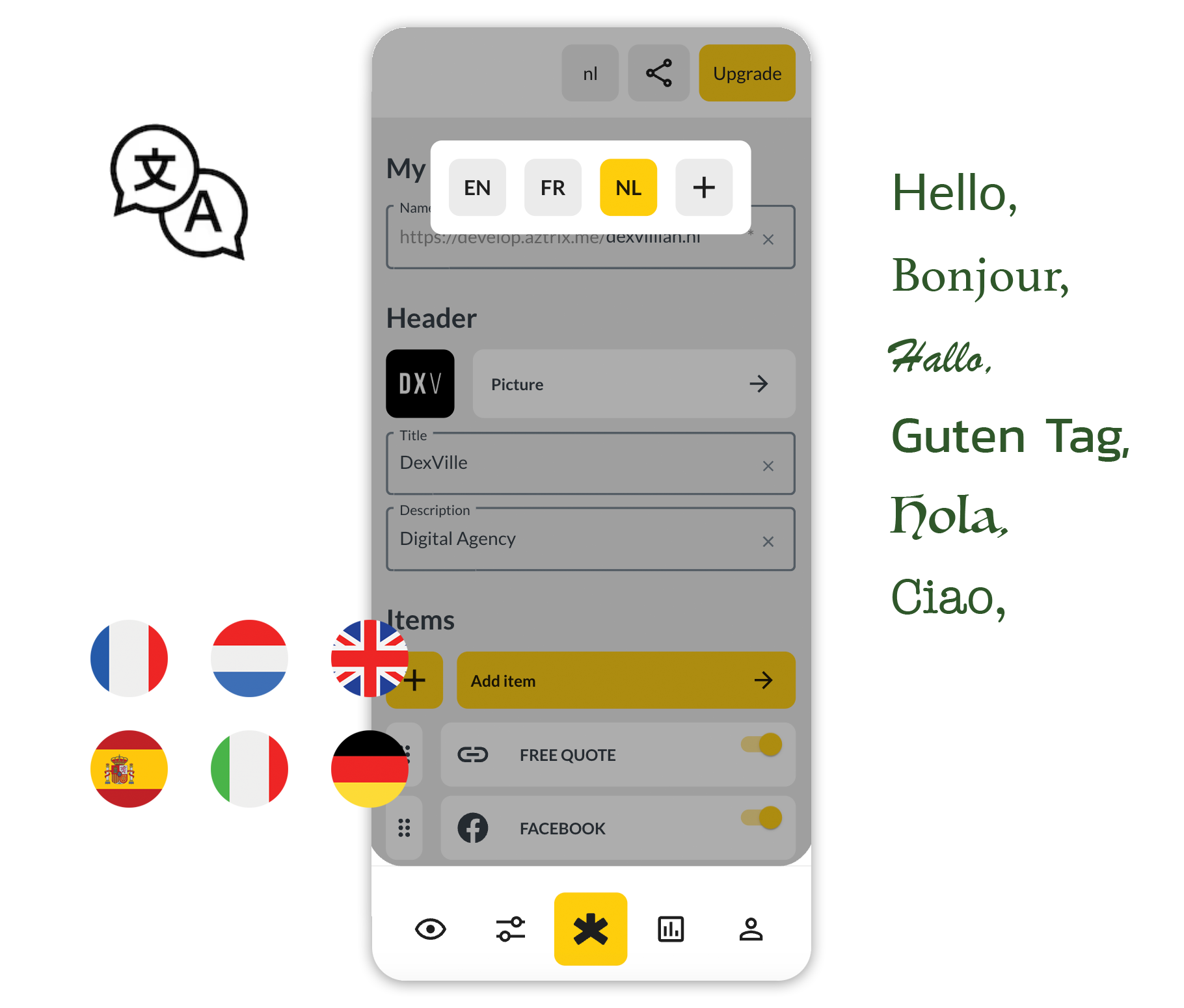 Hello, bonjour! If you're looking to forge strong online connections, you can't ignore language. Aztrix* is consciously designed as a multilingual platform. Share content in different languages, and let visitors choose which language they prefer.
Use the tool in Dutch, English, or French. 

The pages you create will be available in multiple languages.
Did you know you can even use your Aztrix* profile to collect money? Connect a Stripe account to your profile, set the right amount, then add the link to your Aztrix* page. Easy, secure, and perfectly legal. 

Visitors can choose to pay by credit or debit card. 

Payments can be specified as one-off or recurring.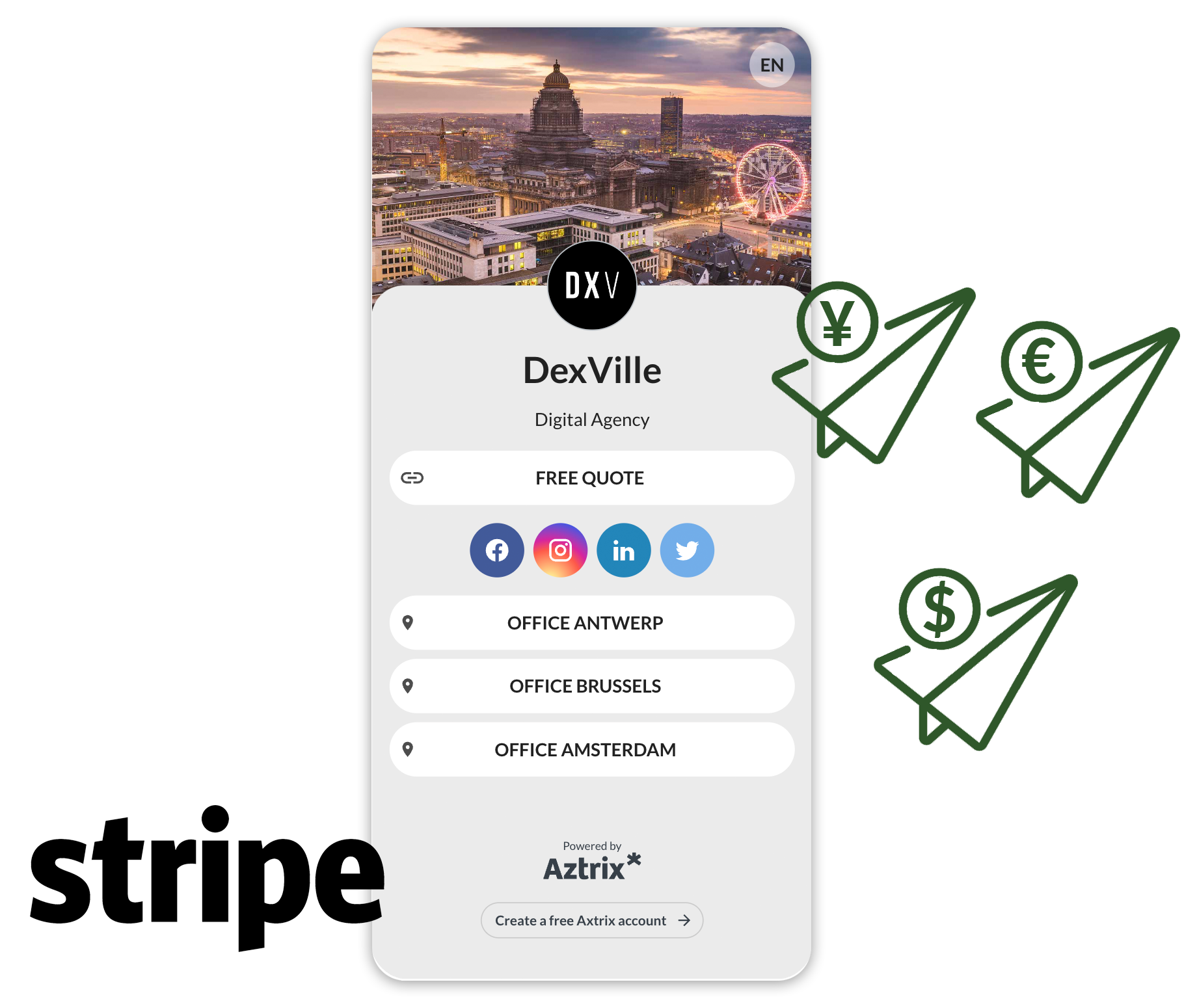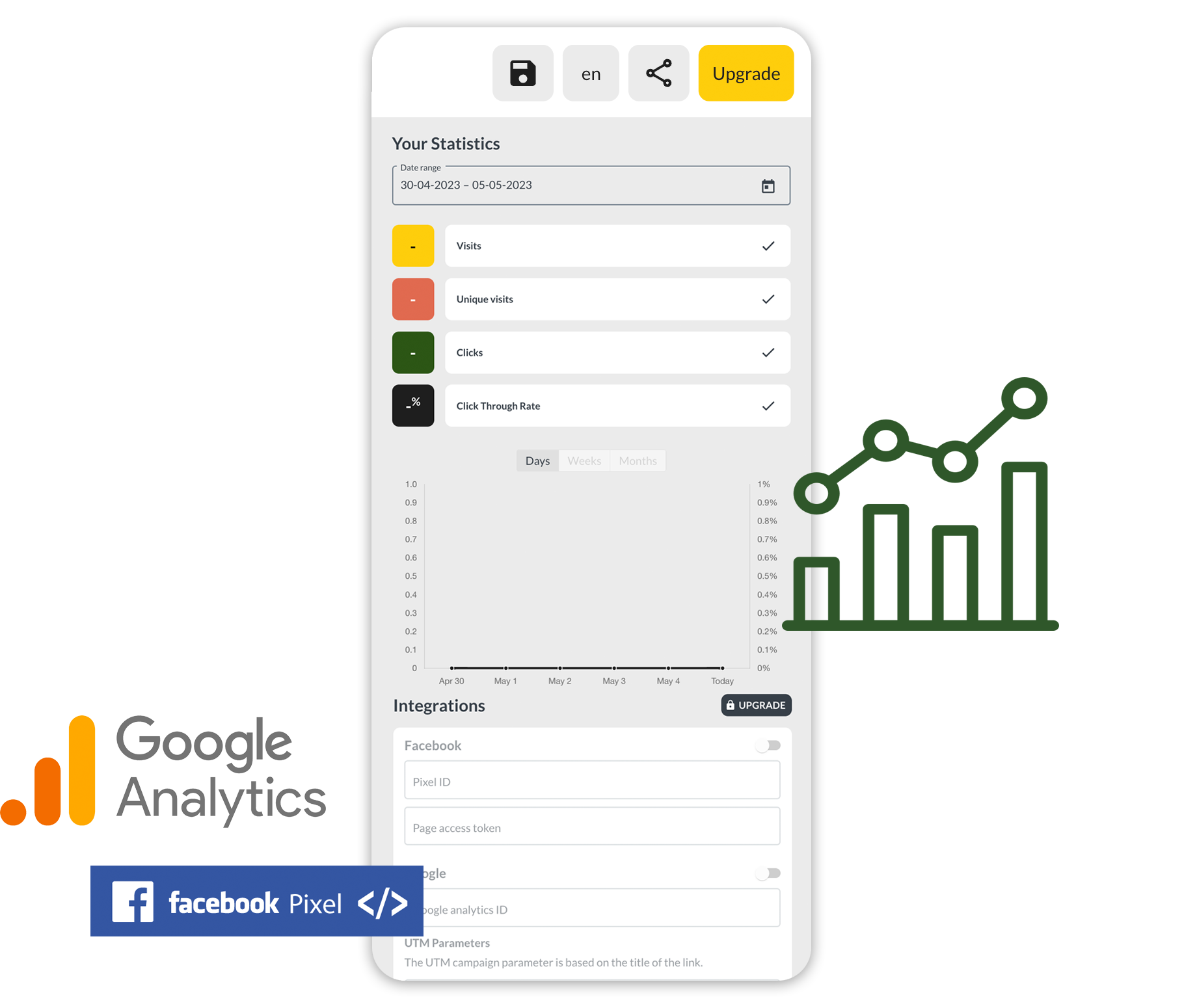 How many people are visiting your Aztrix* link? What's grabbing their attention? What are they clicking on, exactly? And above all, what does it all mean? Aztrix* shows you all the stats, so you can see what's working—and what isn't.
View your total and unique visits, clicks, and click-through rates.

Filter your insights by date, or view your daily, weekly, or monthly stats. 

Connect your Aztrix* insights with Facebook, Google Analytics, or UTM parameters.
With Aztrix*, you decide what you share, and who you share it with. But it's also easier than ever to collect data from others. Our online forms allow you to easily collect email addresses, phone numbers, contact details or feedback, which will make your online connections all the more profound.
Add the data you want to share with the world.
Create an email or mobile form to collect data.
Collect data in a way that meets all privacy standards, including the GDPR guidelines.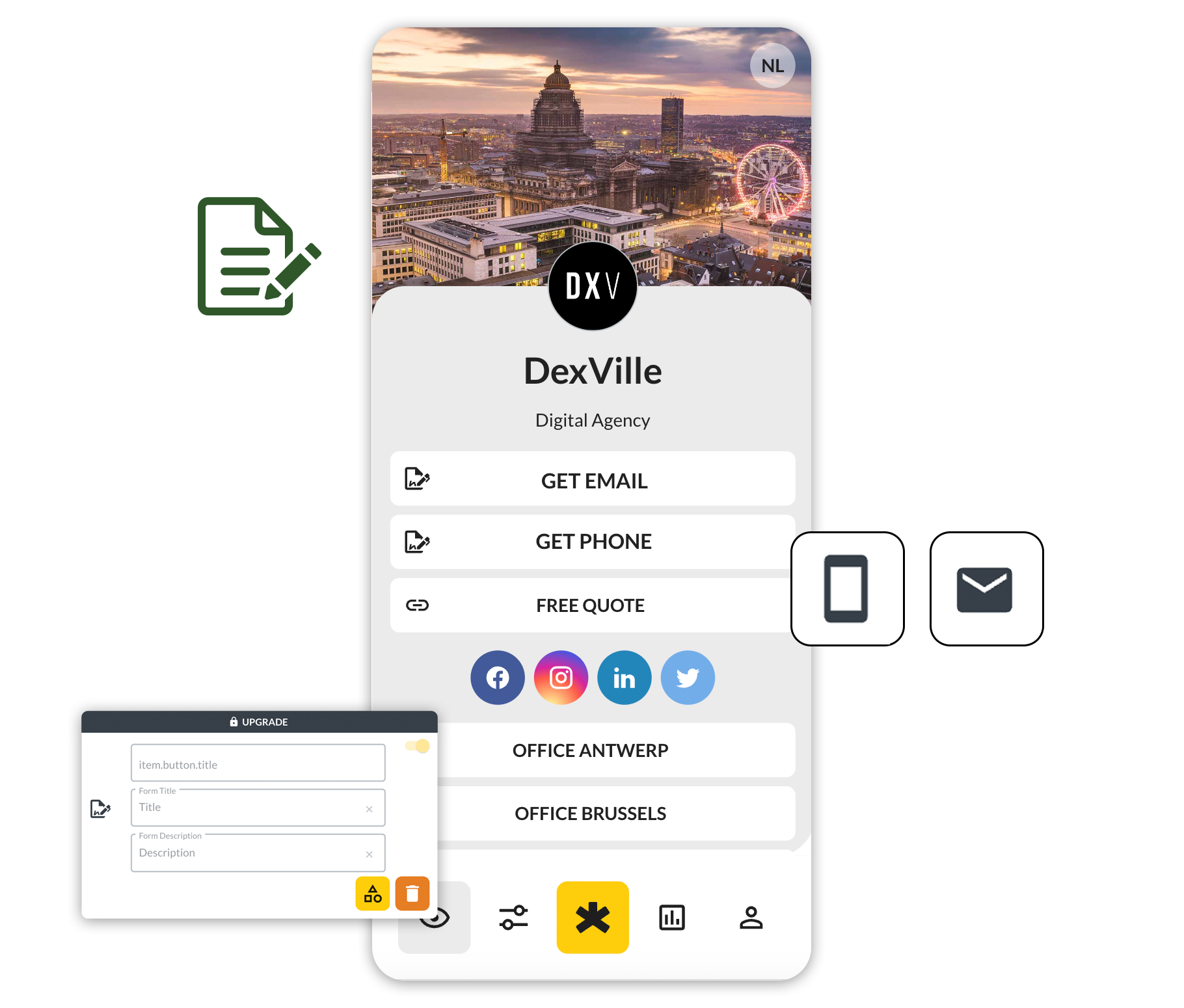 If you have an internet connection,
you should have Aztrix*.
Aztrix* is here for brands …
Share your work with followers, clients, or potential partners, and show how you stand out from the crowd. Your brand has a voice. Make sure the world can hear it.
Want to share your travel blog? Your LinkedIn profile? Your creations from that pottery class you took way back when? Or all of the above? Aztrix* helps you show the world your multifaceted self.
Aztrix* is all about simplification. Making things easier. That means we have an answer to any question you might have.
Aztrix* collects all the information you want to share under one link. So, when you create your Aztrix* profile, you decide what you put on there. Think of it as an online business card, or your very own online living room.

The internet is infinite, and that's part of its power. But this also means our online presence is usually fragmented. There are different parts of you or your brand in all the nooks and crannies of that vast online expanse. Aztrix* helps you show off the whole picture, with one link and a fully customisable interface. Isn't it nice to be in charge of your own data?
Links, contact details, online profiles, documents — everything you'd share publicly can have a place on your Aztrix* profile. But therein lies an important condition. (…)
The data you share or collect via Aztrix*is automatically compliant with GDPR guidelines. You can find more information about our privacy policy here.
You can still log into the Aztrix platform here: platform.aztrix.me. We are changing Aztrix functionality to support a variety of products and therefore moved our data & privacy management to platform.aztrix.me
Create your link. Build your world.

With Aztrix* you share what you want, the way you want. One link, endless possibilities.